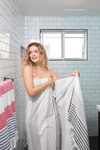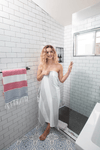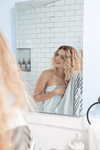 Looks amazing in my bathroom, I look forward to bathing everyday just so I can use this towel.
I stock up on these every year and give them out as gifts as I need them. Everyone is always thrilled with them. It's an easy win for me!
These towels are awesome, perfect for RV living!!
I purchased this for the beach but after I saw it I decided to use it in my bathroom instead. It's really nice and dries me off quickly
Thin peshtemal on the front with a soft terry cloth lining on the backside! The perfect mix for someone who wants to try a thin Turkish towel but likes the feel of terry and wants a little more weight to their towel.
Frequently asked questions
Where are your towels and blankets made?  

All of our towels are loomed and tasseled in Denizli, Turkey
What type of cotton is used in your items?

We use Turkish cotton for our towels and blankets. Turkish cotton
consists of several long fibers that are twisted together to form the
thread making it stronger and more absorbent than regular cotton.
Are all of your items made from 100% cotton?

All of our towels are made from 100% cotton as well as the majority of
our blankets. We have a few blankets that are cotton blends, these will
be notated as cotton blends in the listings for these items.
Are your items machine washable?

Yes, all items can be washed in cold water on a gentle cycle. Dry with
low heat or tumble dry for best results and to reduce shrinking.
Are your items OEKO certified?

Yes, all of our items are OEKO and SMETA certified, ensuring they are safe and ethically produced.