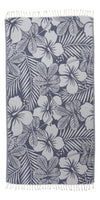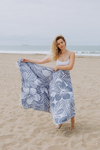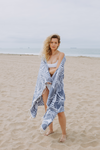 This!! I am a collector of Turkish towels and I haven't seen one yet that is this soft, absorbent and has a intricate print like this. I really like this brand, I need to check out what else they have that I can add to my towel collection.
Generous size, works well for the beach
Beautiful. Generous size, dries fast.
Beautiful color! Great size! Arrived quickly!
Awesome! Well made, really cool!
Our beautiful jacquard designs are unique and beautiful, made from 100% Turkish cotton. The patterns are woven right into the fabric to help make these towels exceptional in quality, look and feel.
Frequently asked questions
Where are your towels and blankets made?  

All of our towels are loomed and tasseled in Denizli, Turkey
What type of cotton is used in your items?

We use Turkish cotton for our towels and blankets. Turkish cotton
consists of several long fibers that are twisted together to form the
thread making it stronger and more absorbent than regular cotton.
Are all of your items made from 100% cotton?

All of our towels are made from 100% cotton as well as the majority of
our blankets. We have a few blankets that are cotton blends, these will
be notated as cotton blends in the listings for these items.
Are your items machine washable?

Yes, all items can be washed in cold water on a gentle cycle. Dry with
low heat or tumble dry for best results and to reduce shrinking.
Are your items OEKO certified?

Yes, all of our items are OEKO and SMETA certified, ensuring they are safe and ethically produced.