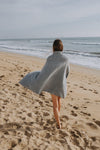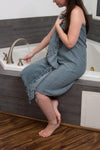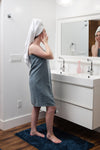 LOVE LOVE LOVE these towels! They're perfect! Thank you for the unbelievably fast shipping! I would absolutely buy from InfuseZen again! If you're looking for beautiful Turkish towels, don't even look at other vendors just go ahead buy from this Etsy store. Thank you for the beautiful towels!
Excellent communication, shipping time, packing, and the towel is very well made. Thanks!
I absolutely love this. The craftsmanship is excellet and I get compliments on it whenever I use it at the beach. I have also used it as a shawl before when we dine outdoors on vacation. It's nice to have something that packs light and has so many uses. 5 stars!!
It's surprisingly lightweight, yet highly absorbent - perfect for both the bathroom and beach outings
I didn't know about stonewashed fabrics before I tried this towel out and now I am obsessed!! Such a cool thing - it gives the towel and worn look as if I've had it for years (I know that doesn't sound good but it is!) and it makes it so soft. Glad to have it around now.
InfuseZen stonewashed towels make the perfect addition to any bathroom for an instant spa feel. Washed with small stones to give them a broken-in look and feel, they are thin, soft and absorbent.
Our stonewashed towels also make a great beach accessory! They are sand resistant so sand brushes right off and they dry quickly so no more lugging soggy towels home from the beach.
Frequently asked questions
Where are your towels and blankets made?  

All of our towels are loomed and tasseled in Denizli, Turkey
What type of cotton is used in your items?

We use Turkish cotton for our towels and blankets. Turkish cotton
consists of several long fibers that are twisted together to form the
thread making it stronger and more absorbent than regular cotton.
Are all of your items made from 100% cotton?

All of our towels are made from 100% cotton as well as the majority of
our blankets. We have a few blankets that are cotton blends, these will
be notated as cotton blends in the listings for these items.
Are your items machine washable?

Yes, all items can be washed in cold water on a gentle cycle. Dry with
low heat or tumble dry for best results and to reduce shrinking.
Are your items OEKO certified?

Yes, all of our items are OEKO and SMETA certified, ensuring they are safe and ethically produced.