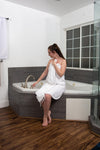 Really nice towel. I have a few Turkish ones and this is my favorite, very classy looking.
Talk about luxury! Glad I get to own one of these and use it every day,
Gorgeous material, well done
I got a bunch of these stonewashed towels this summer as I was hosting many guests (12 people) at my home and I knew people would be in and out of the pool all weekend. Wow, what a life saver!! People where able to grab them and go outside and at the end of the day I would wash all the towels and they fit in the washer so nicely and all the towels were ready again for the next day. Best of all, everyone is gone now and the towels still look as good as new!
Finally, I found the type of Turkish towel I've been looking for! I've bought a few others in my search for the right towels- and the material was never quite right, they had an unwelcome kind of shiny surface and were not absorbent even after many washes. But these are perfect - just as described, high quality material, I love the look and they arrived so quickly! Will definitely order from InfuseZen again.
InfuseZen stonewashed towels make the perfect addition to any bathroom for an instant spa feel. Washed with small stones to give them a broken-in look and feel, they are thin, soft and absorbent.
Our stonewashed towels also make a great beach accessory! They are sand resistant so sand brushes right off and they dry quickly so no more lugging soggy towels home from the beach.
Frequently asked questions
Where are your towels and blankets made?  

All of our towels are loomed and tasseled in Denizli, Turkey
What type of cotton is used in your items?

We use Turkish cotton for our towels and blankets. Turkish cotton
consists of several long fibers that are twisted together to form the
thread making it stronger and more absorbent than regular cotton.
Are all of your items made from 100% cotton?

All of our towels are made from 100% cotton as well as the majority of
our blankets. We have a few blankets that are cotton blends, these will
be notated as cotton blends in the listings for these items.
Are your items machine washable?

Yes, all items can be washed in cold water on a gentle cycle. Dry with
low heat or tumble dry for best results and to reduce shrinking.
Are your items OEKO certified?

Yes, all of our items are OEKO and SMETA certified, ensuring they are safe and ethically produced.